Description
Tree Adventure Park
Adventure Theme Park in the Forest
Welcome to this genuine Tree Adventure Park  in the breathtaking woods of the National Park Sierra de Guadarrama!
Here YOU are the star of your own adventure. The large Tree Adventure Park consists of many different games and challenges, fully merged in the beautiful forest surroundings.
it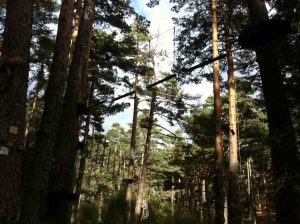 s FIT FOR ALL AGES (starting at 6 y.o.), with no need to be in a certain physical condition or special skills to participate. Also everyone decides the challenge circuit on which to design your own adventure.
the games, grouped by varying difficulty levels, are identified by colors similar to the ski slopes (green-blue-red-black) and are adapted to both children (from 6 years and 1.15 mts. height) and adults, in such a manner that anyone can find their own challenge.
While all games are played in a controlled and safe environment.